I John 5:4 ....This is the victory that conquered the world, even our faith.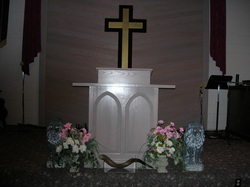 Faith Victory is a family church seeking to experience the awesome presence of our Lord and Savior Jesus the Christ. Set in a non-denominational form of worship, we embrace all true believers in the Lord Jesus Christ. We embrace all those seeking this true reality of the Living God!

---
Our Mission: Gathered under the banner of His Love: we are to:

Exalt His Victory
Edify His people
Equip His ministers
Evangelize His world

We Believe:
1. The Bible is the mind of Christ-- the only inspired, infallible, authoritative written Word of God.
2. There is only one God manifested in three persons- the Father, the Son Jesus Christ, and The Holy Spirit.
3. In the virgin birth, the incarnation, the deity and sinless life of our Lord Jesus Christ'
4. In Christ's vicarious and atoning death through His shed blood.
5. In Jesus' resurrection from the dead, His enthronement at the right hand of the Heavenly Father.
6. On that last day judgement when in resurrection all will rise to meet thier eternal destiny.
7. in that day the righteous will receive a resurrected glorious body, and the unrighteous will be condemned.
8. in the present day supernatural ministry of the Holy Spirit who bestows spiritual gifts to those who obey Him.
9. that God has established the principle of spiritual authority by which He sovereignly rules all creation.

We serve our community with our food bank, you can donate to this great cause, thank you!
.


.


great links;
Breakers Covenant Church breakerscovenantchurch.org